Building homes in hurricane prone regions? If so, you may want to take note of a recent modification to the 2006 International Residential Code. According to the IRC, buildings located in areas with wind speeds of 100 mph or more will no longer be allowed to use the prescriptive provisions of the code.
In the 2003 IRC, the prescriptive provisions of the code could be used in areas where the basic speed was up to 110 mph. Beyond that, the structure was required to be designed. The 2006 code has been modified to decrease the threshold for design from 110 mph to 100 mph for buildings located in hurricane prone regions. This is specifically aimed at regions affected by hurricane winds along the Gulf and Atlantic coasts, in addition to Hawaii.
Below is a Texas map delineating wind speeds in counties adjacent to the Gulf Coast.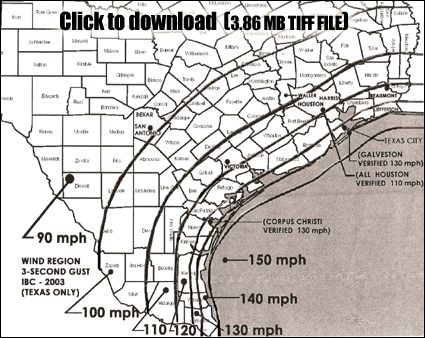 Qualified Inspection Services provides engineering and third party residential inspection services designed to keep builders code compliant. To find out how our services may benefit your company, please contact us today.